DESCRIPTION:
NATURAL CONCENTRATED ANTI-WRINKLE/FINE LINE SERUM WITH PLANT STEM CELL - MATRIXYL 3000 - HYALURONIC ACID
HYALURONIC ACID HAS THE ABILITY TO ATTRACT MOISTURE. AS WE AGE, OUR SKIN LOSES THE ABILITY TO PRESERVE
MOISTURE THAT IS CRUCIAL TO HAVING YOUNGER-LOOKING, SUPPLE SKIN. AT THE SAME TIME, IT REVITALIZES SKIN'S OUTER LAYERS SO THEY LOOK AND FEEL SOFTER, SMOOTHER AND, HYDRATED.
HAVING A WONDERFUL HYALURONIC SERUM IS KEY, BUT WE WANTED OUR FORMULA TO DO MORE!
OUR NEW HYALURONIC SERUM "LE SERUM INDESPENSABLE IS EVEN BETTER NOW! WE CONTACTED OUR LAB AND EXPLAINED THAT WE FELT OUR HYALURONIC SERUM WAS HYDRATING BUT WE NEEDED MORE FROM IT. THE LAB SHARED WAYS TO IMPROVE THE BASE BY ADDING THE EXCLUSIVE INGREDIENT MARTIXYL 3000, THIS ANTI-AGING INGREDIENT STIMULATES COLLAGEN SYNTHESIS. THE ACTIVE INGREDIENT IN MATRIXYL (PALMITOY PENTAPEPTIDE STIMULATE THE GROWTH OF NEW COLLAGEN, ELASTIN, AND HYALURONIC ACID WHICH AIDS IN REFILLING WRINKLES NATURALLY FROM WITHIN THE SKIN. WE'VE HAD PLANT STEM CELL
THAT ARE VERY SIMILAR TO HUMAN SKIN STEM CELLS. THEY ARE USED FOR THEIR EFFECTIVENESS IN SUPPORTING SKIN'S CELLULAR
TURNOVER. IN SHORT WE HAVE RE-LAUNCHED THE BEST HYALURONIC FORMULA ON THE MARKET!!! CONSUMERS WILL BE INTERESTED IN KNOWING THAT STUDIES HAVE SHOWN NOTICEABLE IMPROVEMENT WITHIN
INGREDIENTS:
*WATER, GLYCOLIC ACID, GLYCERIN (PLANT BASED) ALOE BARBADENSIS LEAF EXTRACT* (ALOE VERY) BUTYLENE GLYCOL, CARBOMER, POLYSORBATE 20,
PALMITOYL TRIPEPTIDE-1, PALMITOYL TETRAPEPTIDE -7 (MATRIXYL 3000), GLOBULARIA CORDIFOLIA CALLUS CULTURE EXTRACT, (RESISTEM) LACTIC ACID, TOCOPHERYL ACETATE (VITAMIN E), ARCTOSTAPHYLOS UVA URSI LEAF EXTRACT, SODIUM MALATE, CRATAEGUS MONOGYNA FRUIT EXTRACT, (HAWYTHORN)*, ASTAXANTHIN, NIACINAMIDE (VITAMIN B3), JUNIPEROUS COMMUNIS FRUIT EXTRACT (JUNIPER*), MEDICAGO SATIVA LEAF EXTRACT (SAGE)*, MENTHA PIPERITA LEAF EXTRACT (PEPPERMINT)*, GINGKO BILOBA LEAF EXTRACT*, OLEA EUROPAIA (OLIVE) LEAF EXTRACT*, ASPALATHUS LINEARIS (ROOIBOS) LEAF EXTRACT*, CAMELLIA SINESIS (WHITE TEA) LEAF EXTRACT*, CAMELLIA SINENSIS (GREEN TEA) LEAF EXTRACT*, PANAX QUINQUEFOLIUM ROOT EXTRACT* (GINSENG), HYDROXYETHYL ETHYLCELLULOSE, ALCOHOL, CARRAGEENAN, BUTYLENE GLYCOL, LECITHIN,
POLYSORBATE 20, POTASSIUM SORBATE, SODIUM BENZOATE, CARBOMER, POTASSIUM PHOSPHATE, PROPYLENE GLYCOL, ETHYLHEXYLGLYCERIN.
*ORGANIC INGREDIENTS
HYALURONIC ACID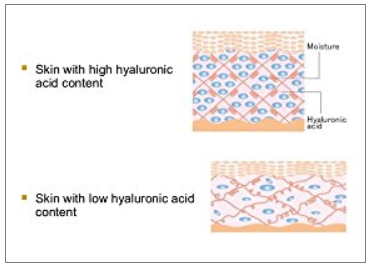 Plant Stem Cells Benefit Human Skin