Description
Esthe Rx Lift Up Mask Treatment Kit
The Esthe Rx Lift Up Mask Treatment Kit delivers cutting edge ingredients, and we guarantee results! The INSTANT RESULTS INNOVATION BY ESTHÉ Rx LIFT UP GD11 a luxurious, deeply hydrating mask for aesthetic cosmetic or clinical procedures. The Professional product delivers instant visible lifting of the face and strengthening of contours - instant revitalization - unifies skin tone, the skin is radiant - contains stem cells and peptide complexes and ampoules to which you create the perfect cocktail for the skin.
This treatment is a favorite amongst South Korean Celebrities and a Best Seller in Japan!
Immediately after use, you will see cheek firming, pores are also significantly reduced. Skin will be lifted and elevated. The double effect of skin whitening and an effective result against wrinkles! The concentration of the cultured solution is very high and results in anti-aging effect. Restores youthful appearance, allowing repair in DNA for damaged skin, restoring smoothness, shine, reducing pores and removing dullness. In short, the skin goes back in time.
The entire range of GD11 Serum & EGF Miracle Cream are recommended for daily use for continued benefits in the skin after applying the Esthe Rx Lift Mask.
The Esthe Rx Lift Up Mask is unique and not offered in Retail Stores specialized for Aesthetic Practice and Skin Clinics.
- Immediate visible lifting of the face and strengthening of the contours
- Immediate revitalization
- Unifies skin tone, skin is radiant
- Contains stem cells and peptide complexes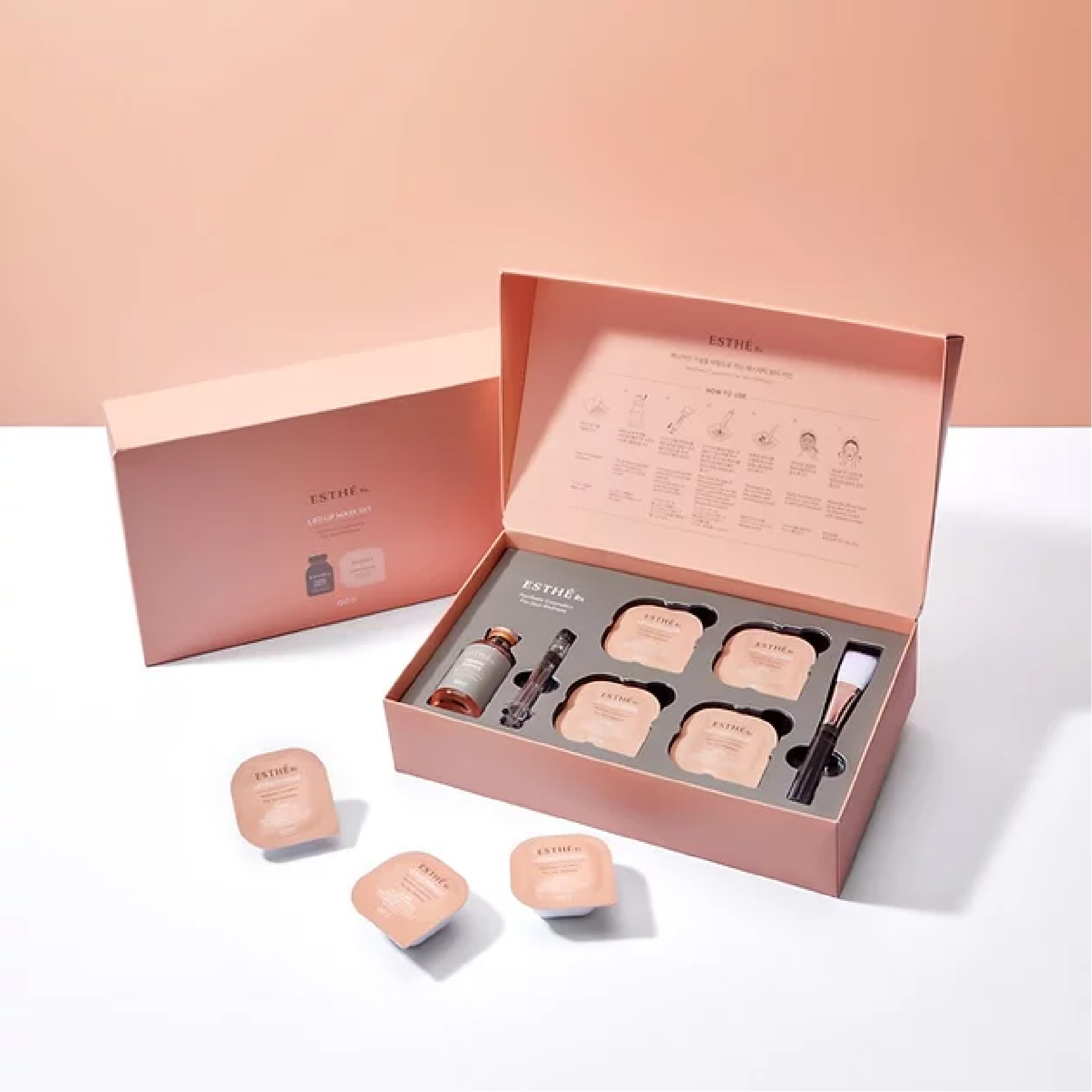 ESTHE Rx LIFT-UP MASK SET, 8 sets + 35ml
Premium Aesthetic Skin Care is Available, with simple steps!!!
POWERFUL LIFTING CARE is available within 10-20 minutes!
HOW TO USE
Remove the cover of the freeze & dried powder container.

Lift the white cap to open the liquid ampoule bottle with a clicking sound.

With the syringe applicator inserted, turn the bottle upside down.
Extract the liquid ampoule with the syringe extract 3 ML.
First, soak the edge of the powder with the liquid in the syringe.
Add additional 3 ML. extract from the ampoule and pour into the middle of the powder container.
Thoroughly mix the liquid ampoule and the powder with the enclosed brush.

Apply the mask pack evenly on your face & neck with the brush.

When the lift-up mask dries after about 10-20 minutes, rinse it with lukewarm water.
Ingredient:
Water, Human Umbilical Mesenchymal Stem Cell Conditioned Media Extract, Glycerin, 1,2-Hexanediol, Niacinamide, Dipropylene Glycol, PEG-40 Hydrogenated Castor Oil, Hydroxyethyl Urea, Caprylyl Glycol, Allantoin, Caffeine, Gluconolactone, Trehalose, Sodium Citrate, Tromethamine, Acrylates/C10-30 Alkyl Acrylate Crosspolymer, Butylene, Glycol, Xanthan Gum, Ethylhexylglycerin, Adenosine, Sodium Phytate, Pentylene Glycol, Helianthus Annuus (Sunflower), Seed Oil, Acetyl Glucosamine, Althaea Rosea Flower Extract, Zea Mays (Corn) Starch, Albumen, Hydrolyzed Collagen, Pullulan
SET - GIFT BOX: 8x ampoules (8 uses), 1 serum of 35ml + 1 brush for application (silicone) The serum is used when stirring the substance on the mask, but also applied to the skin separately as a serum in the normal daily routine. The serum has a 2-in-1 usage.