One of the earliest signs of aging is wrinkles around the eyes. That's because the skin around your eyes is about 10 times thinner than the skin on your face.
10 times…now throw in a cocktail of sunlight and sleepless nights. You have a recipe for dark circles and wrinkles for the rest of your life.
That's what most people think, anyway. Most people don't know that it's absolutely possible to get rid of those things. In fact, there's a science to it…
The word of the day today is "peptides."
We all need more collagen to keep our skin firm. Volufiline contains peptides that help your body make collagen and regenerate sensitive skin. This is a new cosmetics ingredient from Sederma France. Its effect is similar to lipofilling.
Studies have shown Volufiline to increase volume in fatty tissues (especially in the skin around the eyes) by 8.4% after 56 days of use. It also improved the skin's elasticity.
This is important, because people need more reliable, research-backed skincare products today. There are thousands of brands promising perfect skin, but many disappoint.
When you're looking for a solution to stop wrinkles in your skin, check to see if it contains Volufiline.
One product that contains this magic ingredient is Peptide Stop-Ageing Eye Cream HK. This cream was made in a professional dermo-cosmetic lab. It helps women reverse aging for silky-smooth skin around the eyes.
And it does this in 4 crucial ways:
It supports peptide renewal with 7 different peptides.
It moisturizes and nurtures skin with Centella Asiatica Extract.
It tightens and purifies skin with 4 natural herbal extracts
It strengthens the skin with a premium Volufiline ingredient.
You can order a FREE SAMPLE on our site and pay only for shipping, courtesy of Joli Visage Skincare.
Imagine not being afraid of getting old. That's the power of collagen. It is such a key ingredient of skin structure and support.
But collagen also has a best friend named adenosine. Adenosine is a molecule that stores the energy we need to live and exist.
This compound can have night-and-day effects on your skin. It stimulates the production of collagen, helping to prevent (and sometimes reverse) wrinkles. You can see its effects especially around the eyes and mouth area.
Adenosine improves skin elasticity and increases dermal density. That makes it another key ingredient you will want to look for in your skin products.
For example, JoliSpa A. M. Cream contains adenosine to boost collagen. This doesn't just repair damaged skin. The adenosine helps get to the root of the problem. It cures skin degradation at the source.
While the production of collagen is good, it could be even more beneficial for your skin to have collagen and adenosine working together.
JoliSpa A. M. Cream contains:
Polygonum cuspidatum, an antioxidant root extract that prevents skin irritation
Cetearyl olivate to moisturize, soften and smooth your skin
Trehaloseis, plant-based sugar to hydrates the skin
Ready to try it? You can get a FREE SAMPLE of JoliSpa A. M. Cream just by ordering it on our website.
There are plenty of products out there touting the next, big cure-all. But most are not natural and not science-based. That leads only to frustration and tears.
Peptides are a proven way to fight deep wrinkles and fine lines. They promote skin collagen renewal by thickening the epidermis. And they make our neck area look slimmer and thinner.
Peptides are the main, most crucial ingredient responsible for the "survival" of our skin. When we are young, our body produces collagen effectively on its own. But we lose that ability with age, which leads to dry skin and wrinkles.
That's why, if you're serious about getting results, you always want to keep an eye out for peptides in your skin creams.
Another product containing peptides is Le Neck Reserve Crème . This cream usesessential nutrients for skin preservation and targets sensitivity, especially in the neck and decollete area.
With Le Neck Reserve Crème, peptides help remodel the skin and slim the tissues around the chin. It's clinically approved, shown to remove wrinkles after just 3 weeks.
Moreover, this cream contains a rare Swiss Apple extract. This is one of nature's best-kept anti-aging secrets. It decreases the depth of the wrinkles and increases the lifespan of human cells.
You can get a FREE SAMPLE of Le Neck Reserve Crème right now – you only have to pay for shipping! Visit our website for details.
Everybody wants their skin to look healthy, young, shiny and supple. We're searching for the product that makes that happen from the inside, out.
If you do some research, you will get a lot of articles about the magic power of hyaluronic acid. Hyaluronic acid is thought to help your skin feel supple and hydrated, reduce wrinkles and dryness.
But often, it doesn't deliver. Hyaluronic acid serum contains a molecule that is, at times, too big to completely absorb into skin cells.
The answer to this is a hyaluronic acid serum with a "triple effect." That is, it contains three molecules instead of one. From that, you are more likely to see results—healthier, happier skin.
Triple Effect Hydrating Serum contains three different types of hyaluronic acid. The first absorbs through the skin and moisturizes from within. The second applies the same effect on the surface. And the clinically proven ultra-high molecular component improves the skin's overall elasticity, smoothness and hydration.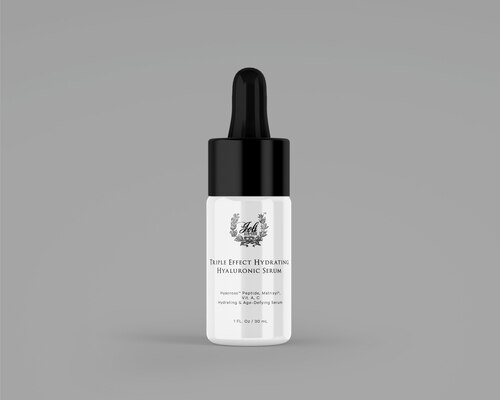 The serum also contains Vitamin C, Vitamin A and the peptide Matrixyl to stimulate collagen synthesis. Vitamin C, by the way, eliminates uneven skin tone and rough texture. It helps your skin obtain a healthy glow without any shimmers or highlighters.

You can get a Triple Effect Hydrating Serum sample absolutely FREE by ordering it on our website.