Your Eyes Can Smile with Revolutionary Anti-aging Eye Cream
They say eyes are the windows to the soul. But what about their gatekeepers, that sensitive skin around them? What happens if nobody can see them because wrinkles and rigid skin takes all the attention? Peptide Stop-Aging Peptide Eye Cream fights toughest wrinkles around your eyes and regenerates this sensitive skin so you can shine like never before.
Did you know that the skin around the eyes is ten times thinner than the skin on the face?
Constant exposure to UV sun radiation, countless hours a day spent in front of screens, sleepless nights we spend catching up with work or taking care of our little ones… None of it helps.
And we didn't even mention makeup we use to cover up for puffy eyes and dark circles.
Quality makeup removal tonic takes care of that, you might say. But what about all those strokes we make while we remove makeup and damage a part of that delicate skin without even noticing it? We don't notice it at once, but what happens in the long run?
Things could and should be different.
Imagine the smooth, silky skin around your eyes that needs only a light touch of make up with nothing to hide. Being able to smile "with your eyes", not wondering if you look old while doing it. And turning the clock back by regenerating delicate skin around your eyes. Sounds impossible? Not when science and nature work hand in hand.
Stop-Ageing from Joli Visage takes complete care for your delicate skin around your eyes in 4 crucial ways:
1.Supports peptide renewal. Peptides are amino acids that give firmness and elasticity to our skin. Its absence means soggy and rigor skin accompanied by wrinkles.
Multipep-7 contains 7 different peptides that have better anti-oxidative effect than individual ones used separately. It reduces wrinkle formation, improves dark spots and circles, and at same time boosts skin's resilience by inducing collagen synthesis.
2.Strengthens the skin with premium Volufline ingredient. Extracted from root of Asian plant "Zhi Mu"clinical data shows skin's volume increases by 8.4% after 56 days of use.
Promptly moisturizes and nurtures skin with Centella Asiatica Extract. Called "Tiger Herb" because of tigers' habit to roll in it to heal their wounds it empowers skin regeneration; this ingredient has immediate impact on skin once applied.
Tightens and purifies skin . Patented Herbal Composition formulated with 4 herbal extracts obtained from nature have anti-oxidative, anti-wrinkle and anti-Inflammatory effects on the skin.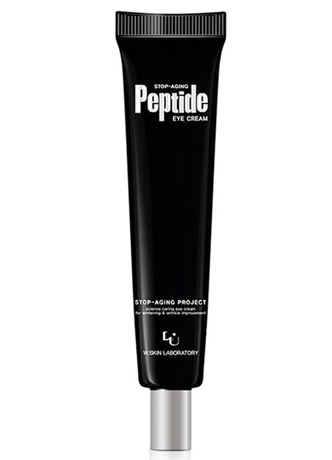 With all these ingredients working together, Peptide Stop-Age is a complete solution for your eye skin. This means you can free up your shelf and replace individual solutions for nurturing, moisturizing and renewal effects with one product that takes care of everything. It's one cream to rule them all. Make your eyes shine again with smooth and healthy skin with help from Peptide Stop-Aging Eye Cream.


Buy it now -- the price is scheduled to go up once we run out of our trial supply